Korg 700(S), early analogue mono synthesisers, unique sound, reliable and stable. Innovative in their day, use Volts/Hz, not easily interfaced to most other synths using Moog's Volts/Octave standard. Dedicated parts probably unobtainable but many are standard.

Korg CX3, neat little drawbar electronic organ, with reasonably realistic Hammond like sound. Percussion, vibrato, adjustable key click & passable rotary speaker simulator.

Great for Jazz and Rock. Many specialised parts, all probably unobtainable in Britain. Only buy if everything works properly.

Korg BX3, two manual version of CX3, the same comments apply.

A new version has been introduced & received good reviews. As with all instruments, only time will tell if it becomes a classic.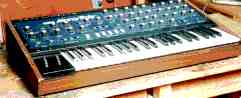 Korg MonoPoly, some consider this a classic, we don't. 4 voice analogue synthesiser. As its name suggests it can be used in Polyphonic or Monophonic modes. Really best in mono mode, it then has more character than its contemporary, the Poly-Six.
Each voice can be individually adjusted & tuned. Volts/Hz scaling standard, as with earlier Korgs, makes interfacing with the more common Volts/Octave synths difficult.
Conductive polymer contacts are frequently worn out & spares have not been available for years. Keys are probably no longer available, many electronic parts are standard. The controlling MPU is a custom part so avoid any example if its polyphony seems crazy.
A well maintained example with fully working contacts or MIDI conversion may be a good buy. A fairly strong mono sound, not even remotely like an Oberheim 4 Voice, but a lot cheaper.
Korg MS20, an earlier machine that may be regarded as classic. Monophonic analogue, two VCOs & Envelope Generators. One main VCA, one modulation VCA, integrated module high & low pass VCFs. Metal blade contacts, so no trouble here. With Volts/Hz scaling. Equipped with ring modulator & jacks allowing signal flow etc. to be patched.

Has a versatile external signal processing section. This includes a frequency to Voltage converter & a trigger generator. Careful setting up & playing style allows an effective guitar synthesiser to be implemented. Don't all go 'Wow' at once.

Most electronic parts are standard, apart from the VCFs on earlier versions. So providing these work, it may be a good buy. Has a steeply sloped control panel giving a distinctive look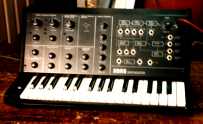 Korg MS10, generally similiar but with one VCO & less features. The same comments.
An MS10, the full size patch jacks are a distinctive feature of both models.

Korg Poly-Six, arguably a classic, although we don't think so. Six voice polyphonic programmable, one VCO per voice, discrete oscillators with SSM IC VCFs & Envelope Generators. Its main claim to fame; it was the last true analogue from this company. More programmable & better sounding than its successor (Poly-61).

No auto-tune but a single multiplexed antilog converter reduces relative pitch drift. Plastic contacts on most are now worn out & spares have not been available for years in Britain. Keys are in very short supply, if available at all.

A leaking memory backup battery can seriously damage printed circuits, causing weird sounds etc. Two MPUs are used, custom parts & probably not available new. Before buying one ensure it is complete & that everything works. Also don't pay too much for it.

Some enthusiasts in Europe supported the Poly-Six in the past, to the extent of re-engineering the main MPU board. A number of options were available, involving differing amounts of work. The most advanced gave additional features, MIDI & more memory.

In our view, due to the lack of character from modern digitals, some musicians are desperate for anything analogue. However, one VCO per voice, average IC filters, poor keyboard, worse contacts & chipboard case don't add up to a good instrument.

Its sound and quality do not advance the analogue cause.

A lot of better machines are available, for not a lot.