CS80, one of the first polyphonic synthesisers. A real beast, big, heavy, innovative and terrific sounding. Complex, very adjustable and prone to tuning drift. << This one is in our Mercia facility. Eight voices, sixteen VCOs. Sixty-one centre pivoted, weighted keys with metal blade contacts, velocity, and polyphonic pressure. In 1977! A 'No Holds Barred' instrument that does not show an accountant's involvement.

Two complete modifier channels, predating such facilities on computer based models by a decade or so. Each channel has a full live panel, 2 sets of fully adjustable 'Memories' plus 11 fixed presets. Above the keyboard is a long pitch ribbon, probably the best design ever produced. Clever circuitry remembers where it is first touched & sets the zero change point.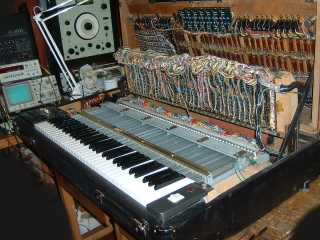 If you own one NEVER let anyone service it, unless they are known to be good and genuinely know the model. Much expensive, often un-repairable, damage can be caused by uninformed dabbling. Yamaha still provide some technical support & a diminishing supply of spares.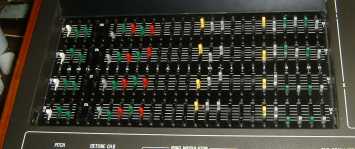 CS70, (no image currently available), CS80's smaller sister, still a big girl though. One VCO per voice & only 1 channel. The same comments apply.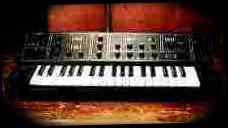 CS5, a neat little monophonic analogue synthesiser with sloped top styling. 3 octave with metal blade key contacts. Only one VCO but the sawtooth & pulse waveforms can be mixed.

Its range is from 2 feet to 64 feet, not quite a centipede.
A multi-mode VCF with the usual controls, the VCA has LFO mod & initial level. They share a single ADSR type envelope generator. A noise source is included.

CV plus Trigger inputs & outputs. CVs are Volts per Hz as is common with Yamaha & Korg instruments of this period. Interfacing with Volts/Octave machines requires an adapter.

CS10, Generally similiar, some additional features.

CS15, again fairly similiar, plus another VCO. More features & 3 1/2 octave keyboard.
DX7, Yamaha's digital FM classic, synthesis from the other side. Amplitude variations inherent in music signals cause momentary changes in frequency (the sidebands in AM radio). FM synthesis works by taking a steady signal and introducing controlled frequency variations.

In theory, similiar results are achievable, in practice, simplifying the complex maths for real time performance has given a distinctive sound.

Well built, reliable when new, 61 keys, 32 presets, metal contacts, velocity, pressure, basic MIDI. Can be challenging to programme. Distorted output MAY indicate failed FM Operator chips, these are available but expensive. Yamaha's support is also good.

DX9, a reduced version with 16 presets, only 4 Operators and a cassette port instead of cartridge for preset storage. otherwise similiar.